Newsroom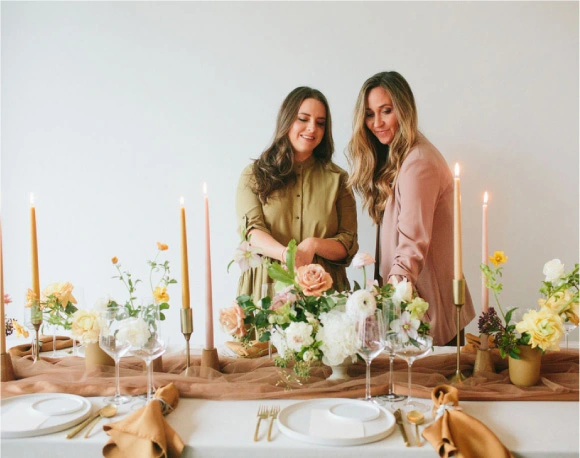 Photo by: Annie McElwain
Design League Announces Launch of Private Beta to Transform the Way Weddings are Designed
SAN FRANCISCO, December 8, 2022
Design League, a new technology platform that modernizes and uplevels the process of designing a wedding, announced today that it was opening its private beta. Potential private beta users are invited to join the waitlist at www.designleague.co. Those selected for the beta will have access to the Design League platform where they can get inspired by the curated collection of thousands of photographs from the world's top wedding photographers, create design decks using Design League's game-changing design tools, and browse recommendations for shoppable items and rentals that match their favorite photos.
The launch comes amidst a wedding boom; 2.6 million weddings took place in 2022, up from 2.2 million in 2019 prior to the pandemic. Today's weddings are bigger, and amid record levels of consumer price inflation, more expensive than ever. This year also welcomes the next generation of couples – Gen Zers – to the wedding planning experience. "It is past time to solve the old school inefficiencies of the wedding industry and digitize the design process. Design League is the only online destination where couples can design a wedding from beginning to end. We developed the Design League platform based on the design process we perfected during our 13 year careers as luxury wedding planners" explains CEO Lauren Geissler.
The heart of the Design League process is the private gallery of thousands of gorgeous inspiration photos where users can save and organize their favorite images. The gallery includes photos from the top wedding photographers in the world, many of whom are friends and former colleagues of co-founders Geissler and Emily de Ayora. The two are ecstatic to show couples what they believe is "the most beautiful collection of hand selected wedding photos in the world." After browsing the galleries users can create design decks using Design League's proprietary design tools. Finally couples can bring their designs to life with access to the exact products that appear in their favorite photos. Recommendations for shoppable products, rentals, and new inspirations are all powered by each users' activity on the site.
Design League Co. was founded by Emily de Ayora and Lauren Geissler, who previously co-founded San Francisco-based luxury wedding planning firm Downey Street Events. They credit the idea for Design League to their thirteen years of designing weddings and watching clients struggle with a lack of inspiration and design-based online tools. The duo met while attending Stanford Law School and both practiced in San Francisco prior to co-founding Downey Street Events.
Ahead of its anticipated public launch the startup encourages the newly engaged and curious designers to join their waitlist to stay informed about upcoming announcements, partnerships, and promotions.